No room in your Atlanta home sees more daily traffic than the bathroom. Morning, noon, and night your family needs access to a space in which they can relax and feel comfortable. A bathroom should be soothing, safe, and designed for your lifestyle. We will listen to your needs and ideas before we begin the design process to ensure a bathroom you will love. With your input, our seasoned designers will then take you every step of the way, from spatial planning to material selection, until the project of your dreams is complete. Rest assured your new bath will be one you can be proud of – aesthetically aligned with you and your home, on-budget, and constructed with quality materials. By remodeling your bathroom with Cornerstone Remodeling of Atlanta you will be able to maximize space, comfort, and value in one easy to manage project.

Creating A Bathroom That You Can Live In
We believe a bathroom should be a place to relax and shut the world out. Yes-that room with a toilet, bathtub, sink and shower, is an ideal space to create a happy place you can visit a few times each day without ever leaving your home. In fact, the bathroom might be the only room in the house where you safely can lock yourself inside for a half-hour to escape the noise of life, stress of the day, and potentially the hubbub that's happening right outside that door (ahem, parents of small children). So why not give the bathroom the attention it deserves?
When tackling an Atlanta bathroom remodel project it is important to consider the budget, layout & functionality, aesthetic appeal, and increasing your property value, but it is also important to consider the little things that can provide you comfort. Maybe you enjoy soaking in the tub while reading a book? A Freestanding tub can give you the space and design to enjoy it even more. How about adding a chandelier just above the tub which provides light for reading but also helps create style. The point is if you treat your bathroom as the livable room it should be it could be the most enjoyable remodel project you ever take on.
Whether your Atlanta bathroom remodeling project calls for a simple update of surfaces, a historically-accurate restoration, or a modern master bathroom addition, we have the craftspeople, designer relationships, and management prowess to execute your project beautifully.
For full details on our bathroom remodeling services, call us at (404) 786-3141 or visit our Appointments page to schedule a free in-home consultation today!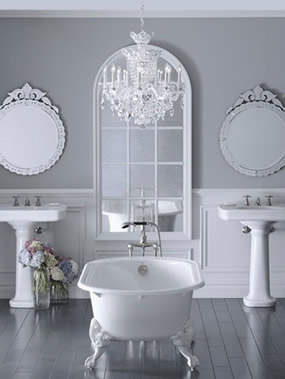 Remodeling a Kitchen for Resale
For potential buyers, the kitchen is the room that can make or break the sale. An upgraded, attractive kitchen can make your home irresistible. Ideally, your Atlanta kitchen renovation should earn a 70 percent return on investment when you sell your home. But this depends on the features you choose, how much you spend remodeling and whether your priority is to create a dream kitchen for yourself or a kitchen that will appeal to potential buyers.
Remodeling for resale means choosing materials that appeal to the masses. This means opting for stainless steel appliances that are high quality rather than professional-grade models. Spend on functional features like pantry drawers, soft close cabinet drawers and doors, waste-recycling cabinetry. But don't over-personalize the space. You may appreciate the art-deco drawer pulls that cost $50 a pop, but will buyers care? Probably not.
At Cornerstone we can help upgrade your outdated kitchen for resale. From design to the finished punch list, we can make your Atlanta kitchen remodel a pleasurable experience that will make you money!