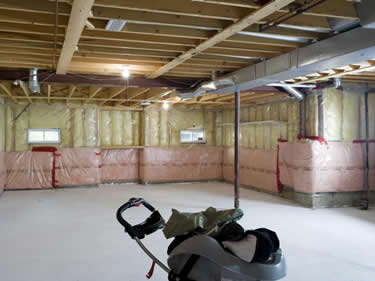 Basements often are a forgotten part of the home. For many, they are valued for their extra space to store Christmas decorations and their safety when hiding from a tornado. With some creativity and planning, though, a transformed basement can be a cozy family room, game area, or exercise spot for any home.
If you have a wasted basement space, consider the following suggestions for remodeling inspiration:
Entertainment. A projector, stadium seating, and a popcorn maker can turn your basement into the movies.

Home Office. Whether you work from home, need a quiet place to study, or are working on an important project, you will find peace and quiet in a basement office. Remember to install plenty of electrical wiring to power all of your needed tools, like a laptop, speakers, and lights.

Laundry Room. Do you have a small basement and have no idea what to do with it? Move your washer and dryer, install cabinets for soap, lay down a table for folding, and hang racks for clothes to dry.

Playroom. If you have younger children, consider designing a playroom with soft carpet, toy storage, and large floor space.

Rec Room. A basement makes a great location for convenient exercise, whether you're into weight lifting, running, bicycling, or martial arts. It's usually the coolest area of the house, so you can exercise with ease.

Suite. If an adult or elderly parent will be the occupant of the room, then a live-in suit is an excellent choice for revamping your basement. For this design, a bedroom, bathroom, and living room can be constructed for optimal comfort and privacy.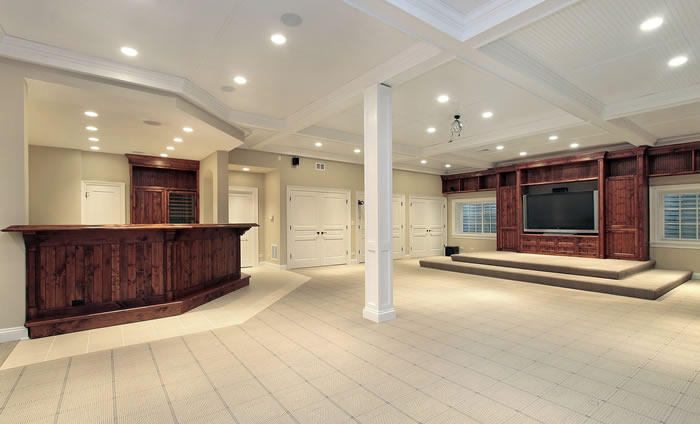 Unfinished versus Remodel Costs
If you are diving into a basement remodeling project, then be encouraged by the pros it offers. Whether you are remodeling an existing basement or building on an unfinished basement, you have endless design options and an easily manipulated budget. Working with an unfinished basement (a basement that is not currently prepared for a living space) is a cheaper option than remodeling an existing basement room.
Also, an unfinished basement project is a fresh slate; you have an opportunity to build a room from the ground up, using as much creativity as you want. If your basement is currently furnished and you are wanting to make alterations, you may end up spending more than if it had been unfinished, but you will still have the opportunity to place your design fingerprint on the renovated room.
The major con of basement renovations is the cost involved. However, since both an unfinished and remodel are not essential repairs, your budget is based upon what you can afford and the cost of the plan you have in place. Whether your budget is large or small, it will be well controlled and vary widely since the potential renovations are not mandatory. In other words, your Atlanta basement renovation decision between hardwood flooring versus tile will fall secondary to your home's broken water heater.
Understanding the Basic Costs of Basement Renovations and Remodels
Depending on your needs, renovations will vary. One major factor is the shape the basement is in now. Consider:
The Unfinished Basement Cost. The average total cost of an unfinished basement is $6,500 – $15,500. An unfinished basement does not require demolition, which means a savings of about $2,000. The major cost in this type of project is flooring and finishing. Other costs will include carpeting, drywall, and ceiling material.

Remodeling a Finished Basement Costs. The average total cost remodeling a finished basement is $13,200 – $30,500 if hardwood floors and other accessories are included (but cheaper if bare minimum furnishing is used). If remodeling is your course of action, expect a demolition cost of $1,500 – $3,000, remodeling fees of $1,000 – $4,000, and electrical and plumbing upgrades if needed.

Additional Cost Factors
The specifics of how the room will be used matter, too. Here are a few breakdowns:
1. Adding a Bedroom or Guest Suite
If the end goal is to transform your basement into a bedroom or guest suite, then expect to pay an additional $20,500 – $50,00 (in addition to the unfinished and remodel costs).
2. Timing
How quickly do you need the basement completed? The answer to this question will determine much of your costs. A team of professionals can complete a basement from framing to complete in 45 days. However, if you are only working when you have the free time, your basement will take longer to complete.
3. Home Systems
Remember that your basement is the headquarters to your home's systems. These include plumbing for sinks, baths, toilets, as well as water heaters, furnaces, and HVAC systems. Since these systems can't be relocated, you will have to design a plan to building around them. Seek the help of a professional before deciding how to hide these items. Code violations or potentially deadly occurrences could result from a furnishing mistake.
4. Floors, Walls, and Ceilings
Floors. First, lay a proper flooring surface down. Second, decide on the flooring. For the average basement size, prices range from $357 (vinyl) to $4,240 (wood).
Walls. Internal walls can be painted like the rest of your home. Exterior walls should be insulated. Prices will vary.
Ceilings. Some options include acrylic panels ($2 – 6 per sq ft), drywall ($15 per panel), or pine ($1.25 – $2.70 per sq ft). If you paint, a sprayer can be rented for $100 per day or a professional will do it for $300 – $500.
5. Permits
Permits are required if you add electric, plumbing, or a new living space. The good news is they are cheap, only about $50. The bad news is fines, removing your renovations, and an altered home resale can result from neglecting to pursue a permit.
6. Water Leakage
Water proof your basement. This can cost from $300 – $7,000, so get quotes. Water damage leads to mold, mildew, bugs, and pests.
Your Atlanta basement doesn't have to be the storage unit. Search for some ideas to transform it into a new living space for you and your family. Basement Design is our specialty here at Cornerstone and we are here to help transform your space any way you wish. Contact the Atlanta Basement Remodel Company today @ (404) 786-3141.