For the ultimate blend of beauty, functionality and sustainability, consider replacing granite kitchen countertops with eco-friendly composite materials. As technology advances and designers have more freedom, some truly amazing countertops have hit the market. Eco-friendly composite countertops upcycle used or all-natural materials into must-have conversation pieces for your kitchen – and as a bonus, you're helping to save the planet.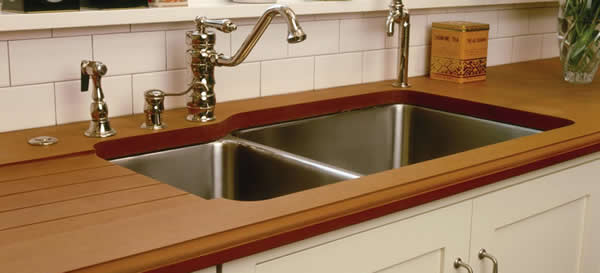 Goodbye Granite, Hello Recycled Glass!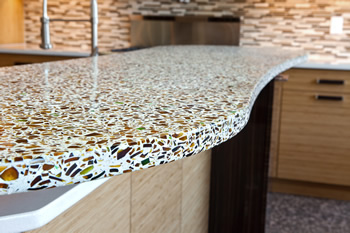 For years, granite countertops ruled the market. As a relatively cheap building material with style, granite is still a good choice. However, there are many other unique and exciting options available today. Recycled glass kitchen countertops are one of the most beautiful choices for eco-friendly materials. Contractors mix the cement, concrete, or resin of your choice with colorful recycled pieces of glass to create a mosaic countertop. Some mix fly ash – the result of burning coals – with cement to save it from ending up in landfills.
Companies such as IceStone are popular choices for recycled glass countertops. IceStone's countertops use smaller glass particles, so the end product is more opaque than mosaic. Another recycled glass option is Bio-Glass. This material is made with 100% glass, giving it a translucent, smooth appearance. These countertops are beautiful and unique, but are not knife-friendly. Be sure to keep a few cutting boards around if you opt for glass countertops.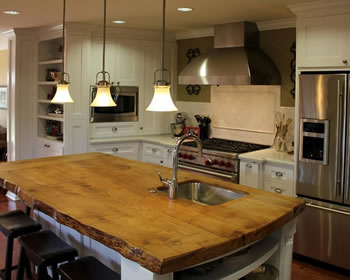 Salvaged Wood or Bamboo
Salvaged wood is a kitchen trend right now because of its beauty and sustainability. Butcher block is another wooden option that's optimal for cutting and chopping. Remember, wood is susceptible to heat and water damage, so keep it away from the sink and hot pans. A wooden island is always a safe bet.
Bamboo is an eco-friendly, rapidly renewable resource that looks lovely in any kitchen. The ageless beauty of bamboo countertops adds unparalleled style to the room, and you can feel good about saving trees when you use it. Bamboo may be more susceptible to staining and knife marks, so prepare to be a little more careful in the kitchen if you choose this upgrade.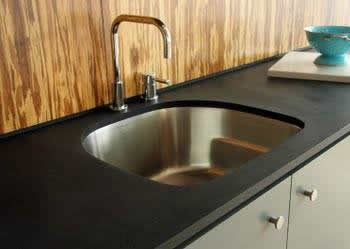 Recycled Paper
Who knew that paper could be a viable countertop material? The experts at PaperStone, the most popular company for recycled paper composite countertops, saw the opportunity to reduce waste and create unique, attractive materials. They mix postconsumer recycled paper into an eco-friendly resin base – some made of cashew nut shell liquid. Recycled paper countertops come in a variety of colors and thicknesses, and you can have it cut and shaped just like wood.
Stone Alternatives and Concrete
An alternative to natural stone is fibrous-cement composites made of recycled paper, glass, and low-carbon cement. Squak Mountain Stone developed this material as an environmentally friendly alternative to regular stone. Each countertop looks unique, and is left with the rugged look of natural stone. Concrete counters are a green choice if you source the material locally. Many use fly ash or recycled glass and paper in the mixture.
If you're looking to upgrade your kitchen with gorgeous and sustainable options, contact Cornerstone Remodeling. Our friendly team of professionals has experience handling all types of countertop materials, and can complete your renovation with speed and efficiency.