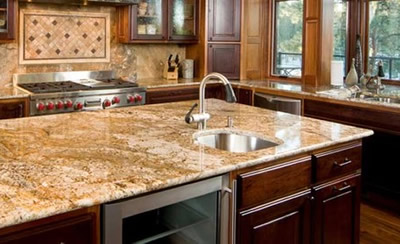 Granite countertops are in homes around the world, and there is a good reason for that. Granite countertops look great; they are also easy to clean. You can increase the value of your home and impress first time guests when they tour your Roswell home. But as you walk through your local hardware store and check their limited options, you may wonder how granite countertops come into being. How much of the product is natural versus processed in a factory? What goes into the manufacturing process? The information below may shed some light on how granite comes to be.
An Introduction to The Very Common Igneous Rock Called Granite
From a scientific perspective, granite is coarse-grained and is composed of the minerals feldspar, quartz and biotite and muscovite mica. It has high silica content and occurs only in continental crust. Granites are light-colored, usually in grays and pinks, their color being determined by the color of the feldspar in the granite. Darker granites and even green granite are known.
Did you know that granite is almost impossible to cut? It's one of the hardest rocks in the world. If you want to attempt to cut granite, you only have a few options at your disposal. You can cut the granite with another piece of granite but the most common way to cut granite, and the way your professional Roswell kitchen contractor will cut it is with a diamond-edged blade. Granite countertops are a trend in Georgia homes and businesses that is not likely to go away anytime soon. Granite makes any space look attractive and fashionable. Because granite is a natural stone its look stands the test of time, whether you have an older craftsman style home or a new contemporary modern home, granite will fit right in.
Where Do You Find Granite?
Have you ever wanted to know where the granite for granite kitchen countertops comes from before it reaches your local warehouse? Below we discuss the process that brings the rock from the mines to your kitchen or bathroom.
In order to find a source where granite exists, you use a process called geological prospecting. Area selection is a crucial step in professional geological prospecting. Selection of the best, most prospective, area in a mineral field, geological region or terrain will assist in making it not only possible to find ore deposits, but to find them easily, cheaply and quickly. Area selection is based on applying the theories behind ore genesis, the knowledge of known ore occurrences and the method of their formation, to known geological regions via the study of geological maps, to determine potential areas where the granite being sought may exist. This process can get pretty intense but to get back on track we will just say that granite mines have locations all around the world – and there is no shortage of granite!
Sources of commercial granite are found throughout the United States. New Hampshire and Vermont produce significant quantities of crushed granite and even more as dimension stone. The official nickname of New Hampshire is "The Granite State." To summarize, granite is quarried from New England to the Southwestern United States and in many states in between. Granite is also quarried in Canada, India and Brazil, Finland, Norway, Portugal, Spain, Namibia, Zimbabwe, and South Africa, to name but a few countries. Because of the hardness of granite, using the rock wasn't a widespread practice until the right technology came along. Power equipment such as compressors, drilling machines, and cranes for lifting big blocks are the key to mining granite.
Granite has different colors depending on the color of its feldspar. Different regions of the United States produce different colors of granite. For example, light and dark gray granite is quarried in Vermont, North Carolina and Georgia. Oklahoma and South Dakota produce red and pink granite. White and pink granite is produced in New Hampshire. Other states producing granite products are Arkansas, Colorado, California, and Maine.
How Do You Get Granite Out Of The Quarry?
Once a company finds granite in the earth, they move to make a quarry and prepare to extract the granite from the chosen area. A granite quarry is a pit or some open excavation from which granite is obtained. To get granite from a quarry a digging, cutting or blasting process is used. This process of removing the stone is called quarrying. Once quarrying is done, the processing of granite starts. There are four steps to granite processing which include dressing, cutting,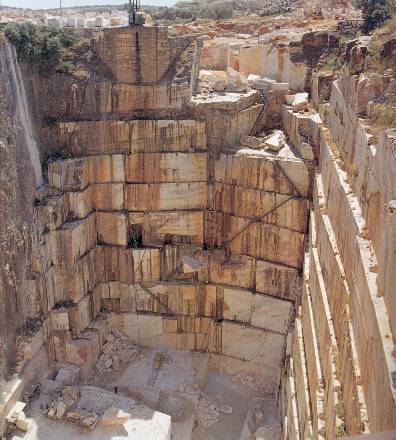 surface sanding, and edge cutting. Once the processing is over, the granite is ready for further use, including countertops, flooring, furniture, monuments and steps. Because granite is both pretty and durable it is a popular choice in construction. Although not easy to obtain it's worth the work that goes into it because of the popularity of the stone. The typical methods for removing the granite involves drilling and sawing. When workers pull out the granite, they try to do so in a uniform fashion. This ensures that each block of granite is about the same size. The blocks go through a cutting process later for transportation purposes.
Before workers move the granite to a processing plant, they have to sort the rocks by color at the quarry. Certain rocks aren't usable. For example, a block of granite may have a large crack or impurities due to a different kind of rock mixing with it. These unsuitable rocks go to the wayside. Trucks move the granite pieces to the processing plant. In many cases, the plants are next to the quarry.
What Goes Into Cutting Granite?
As you know, it takes a lot of effort to cut through granite. It's so challenging to have an effect on granite that you have to use something made of granite or a diamond-edged blade. It can be a chore to shape or form a piece of granite. Granite counters are more expensive than other counters because of these factors. To get a granite block ready for use in your home, someone cuts it into a slab. This slab is usually around 2-3 inches thick and 54 square feet in length. At this stage in the creation process, the granite is vulnerable. Extra care is necessary to protect the granite from breaking in half.
How Does Cornerstone Remodeling Make The Granite Counter Surfaces?
Before we put granite countertops in your living space, we have to know how many feet of granite you'll need. This involves measuring. Once we do this, we can provide you with a list of available colors for the size that you require. Some homeowners know what they want right away, but others may take their time in choosing. When you pick the color that works best for you, our Roswell granite installers get started. First your granite countertops receive a coating of sealant. This is necessary for a high-gloss shine and removing any imperfections. The granite undergoes trimming to fit your measurements, and installation takes place.
Granite never blisters thanks to its ability to resist heat. Its durability keeps it from chipping or scratching, giving you the freedom to own countertops that look good every day. If you want granite countertops for your kitchen, it works better than laminate, synthetic, and marble. When you polish your granite countertops, it's possible to add a new level of shine and quality.
Granite Countertops in Summary
Granite is blasted, drilled, and chiseled out of quarries in large sections. Milling machines have the job of cutting these blocks into slabs. Once this task completes, another machine polishes the granite material. This helps maintain a consistent thickness.
Raw granite needs special care to prepare it for use as a countertop. Special tools make cutting and preparing this rock easier. You can get custom sizes for granite, but it's also possible to get pre-cut granite countertops.
You need to keep the design of your kitchen in mind as you shop for granite countertops. It's also helpful to be aware of the location of the seams on your countertops and the sizes and shapes of the available pre-cut granite. This determines if you need custom or pre-cut granite which will have an impact on the cost.
Granite countertops have many features and benefits. One could easily argue that granite is the best counter or vanity surface available. Cornerstone Remodeling is your Roswell kitchen and bathroom remodeling professionals. Granite countertops, custom tile, custom cabinets, flooring and appliances are a few of our specialties. If you are considering a renovation or remodel of your home give us a call today.